But if you still like to soak in hot water after work or just for relaxation, there are affordable alternatives that can give you just as much pleasure without that average price tag of 4,5 or 6 thousand dollar.
The prices are very affordable and compared to what you get the hot tubs we reviewed will give you a good bang for your bucks.
See our two most recommended inflatable hot tubs
Like always in our reviews we make a recommendation for the top 2 or 3 products. In this case there are two inflatable hot tub that we think we can recommend more than any other one.
You can read the in depth reviews of our top 3 here.
Top 3 best inflatable hot tubs
If you have read one of our reviews before you might know that we basically never review any product under 4 stars and this top 3 of the best blow up hot tubs is no exception.
☑️ Coleman Lay Z Spa Inflatable Hot Tub Review – Our number one
This inflatable hot tub is made by Coleman is our personal recommendation as the best buy.
With its 4 -6 person capacity and large 77 inch diameter it holds 254 gallon water. The walls are inflated and build up from TriTech material for strength, comfort and are very durable.
The installation is very easy and does not require any tools. You can use the pump that comes with it to inflate the hot tub.

4 – 6 adults
254 gallon
Pump:320 gallon per hour
77 inch diameter
28 inch high
Customer Reviews
Better Priced Online Rating: 4.1
We found about 900 reviews of this inflatable Coleman hot tub and that is more than any of the other 2 models and brands we looked at.
With about 80% of the buyers giving it a 4 or 5 star rating I think this a is pretty good score. The lower ratings talked about the pump giving them trouble and it showed an error E01 code after some loud noise.
This inflatable spa will give you a lot of hours relaxing and enjoying the jets according to many of the reviews we read on several online stores and forums.
Pros and Cons
(Back to Top)

Pros:
size
Bubbles
Easy to install
Temperature goes up to 104 degrees
powerful jets
Low operating cost
Cons:
Problems with the pump
10% lower ratings
Can not be used in cold weather
Our opinion about the Coleman Lay Z Spa Inflatable Hot Tub
(Back to Top)
Although it seems that with a 10% 1 or 2 star rating it seems not to be a very good choice if you look at the higher ratings most users are pretty happy with this Coleman hot tube.
Although advised not to be used under 40 degrees I read many people who used it all winter long without any problems.
The filters have to be removed and cleaned from inside the spa and is no problem at all unless you got dressed already than you have to reach inside again.
Several taller people over 6'4″ mentioned it was no problem for them to sit in it and still be comfortable.
Adding up all the pros and cons and after reading a lot of the ratings and reviews for the Coleman Lay Z Spa Inflatable Hot Tub we can recommend this as a good bang for your bucks and our number one recommended inflatable hot tub.
The control panel is very easy to operate
Intex inflatable portable hot tub review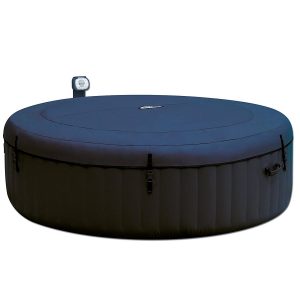 This Intex hot tub is the same size as the Coleman Lazy spa this makes it a better comparison. One of the options we did not find in any other inflatable hot tub is the hard water treatment system for softer water.
This Intex 77 inch hot tub is recommended for 4 people and hold a little less water than the Coleman with its 210 gallon.
It also comes with an insulated cover that will prevent it to cool of when not in use. The temperature of the water can be set between 68 and 104 degrees. The 2 filters are easy to replace and comes with it just like the test strips
77 inch diameter
4 people capacity
68 – 104 degrees
Insulated bottom
Customer Reviews
(Back to Top)
We have been scrolling through and reading a lot of the over 1300 reviews and found a little higher number of lower ratings for this inflatable spa. Most named was that the heating did not worked or gave out fast after using it a few times.
The higher ratings are pretty happy with it and would buy it again. There is still a 65% of the buyers who gave it a 4 and 5 star rating.
Read more customer reviews here!
Pros and Cons
Pros:
Nice price
Easy to install
Bubble jets work great
Keeps temperature well
1300 Watts
Cons:
Complaints about loosing air
Pump gives some problems
Want last for years
Better Priced Online Rating: 4.0
Our opinion about the Intex PureSpa Inflatable Hot Tub
Although more people gave this Intex a little lower rating we think it deserves more than that and we gave it a 4.0 stars.
Remember that you buy an inflatable hot tub and not a thousands of dollar costing hard walled spa. for the price you pay for this we think it performs pretty well and one thing is that it is not using a lot of electricity.
We still think that the Coleman we reviewed above is the better buy but this Intex is not bad at all.
Coleman SaluSpa portable hot tub review
This Coleman can be used by 4 people and it is our opinion that that is most of the time the number of people who will use it. Reason for us to see if it is as good as the Coleman Lazy spa we reviewed earlier.
Overall it got higher ratings but from lesser people so it is hard to conclude anything from that.
Although with over 60 people giving this ratings we can not ignore the high ratings of an average of 4.2 stars.
Digital controlled pump
2 handles to move the empty unit
2 replaceable filter
Easy maintenance
Inflatable cover
Customer Reviews
(Back to Top)
Compared to the other inflatable hot tubs we reviewed on this page the number of lower ratings is a lot lower.
We only found about 8% lower ratings and more 3,4 and 5 star ratings for the Coleman Miami hot tub.
Like all others the main complaint were about the pump and not staying inflated. These two point are the weak spots of any inflatable hot tub and will because of that reason cause the most problems.
Read more customer review here!
Pros and Cons
(Back to Top)
We looked at the pros and cons and will list them here for you.

Pros:
Quit pump
Jets work good
Easy to drain and refill
Good on energy use
Cons:
Little small for 4 adults
Heats up slow
Better Priced Online Rating: 4.2
Our opinion about the Coleman SaluSpa Inflatable Hot Tub
The ratings are pretty good for this inflatable and portable hot tub and it seems that filling and emptying is pretty eaay. This makes it easy to take it with you on vacations.
The heating up takes a little long with 24 hours but the energy use is low also.
Most users are pretty happy with it and we agree with the overall rating of 4.2 out of 5 stars.
Like every inflatable hot tub or spa the pump and the wall gave the most lower ratings.
Overall we can recommend this as a good buy compared to the price.
Recommendations for inflatable hot tubs
(Back to Top)
Overall any inflatable hot tub is not the same quality as a Hard walled hot tub that is simple. It is just like an inflatable pool and a hard walled pool.
So if you expect it to last just as long you better spend a couple of thousand dollar on a "real" hot tub.
What you get is a hot tub for a very affordable price that will give you the same comfort and bubbles as a hard walled one but them for a fraction of the price you would pay for that hard walled one.
Make your outdoor living nicer with products in our outdoor category.