Our website is supported by our users.

Sometimes we earn a few cents when you click on a link.

I have been looking at air fryers reviews for a while to see if I would write about them and although they have been around for a while there is not much information available. Reason to look at them and give you our tips and ideas about these oil-less fryers.
What are air fryers and how do they work
In my opinion, an air fryer is a smaller version of a convection oven. Both heat up the air and by using a fan the circulate the hot air around the food you cook.
The benefits of an air fryer are that they use hardly any fat or grease to fry your food. This is a big health factor and this is also why they are becoming very popular.
We found a nice video that explains better how a hot air fryer works.
In these reviews, we will look at the top 3 air fryers
Although we think that these are the 3 best air fryers we still advise you to do your own research and find the one that fits your needs. Especially the fact that they come in several sizes makes it necessary to find the size you need.
Philips HD9220/28 Air fryer With Recipe Book

Although we did not read all of them we had a good look at the almost 900 reviews we found for this Philips air fryer.
With an average of 4.3 stars, it was rated very high.
The features of the Philips HD9220/28 hot air fryer are:
1.75 Lb capacity
Timer up to 60 minutes
Free app
Temperature settings
Customer reviews of the Philips HD9220/28 hot air fryer
The Philips brand has been around forever and to the best of my knowledge this first one that started selling the now so popular air fryers.
There were a lot of positive comments about the fryer but we found that this is not a big air fryer but very suitable for smaller families or a single-person household.
For larger families and if you like to fry larger portions it is better to look at one of the other brands we reviewed.
Aigerek Hot Air Fryer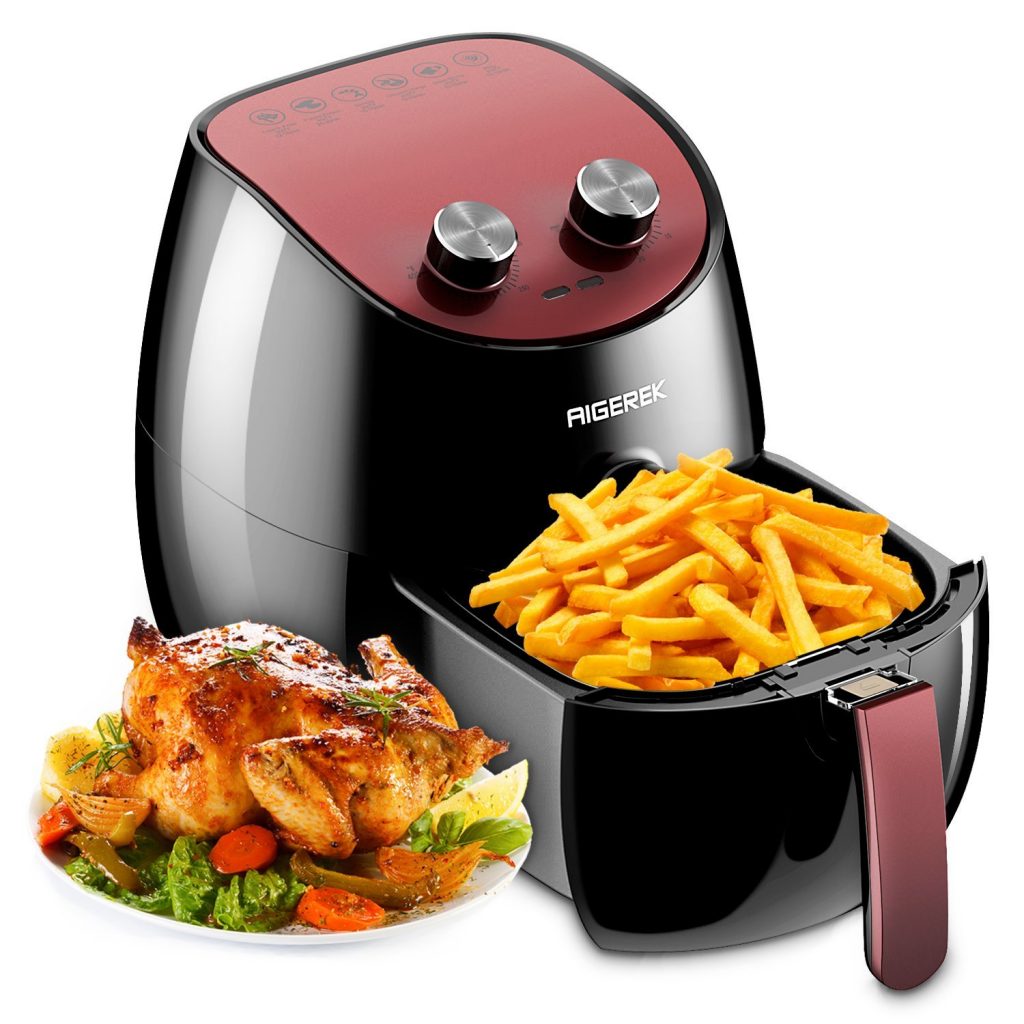 I was really impressed with the ratings and customer reviews of the Aigerek. First I thought these ratings were not real but over 120 people can not be wrong.
The 4.9-star rating shows that. That makes the Aigerek the single highest-rated air fryer we have found.
The features of the Aigerek are:
Auto shut off
3.2-liter capacity (almost a gallon)
1350 Watts power
Timed cooking option
Dishwasher safe


Aigerek air fryer customer reviews

Click Here To Read All The Customer Reviews

We read some questions and one we have seen a lot is if you have to use oil. Apparently, you do not have to use oil but many people wrote that the food tastes better and is less dry when you add a little oil.

What many people liked is the price compared to the quality and how easy it is to use. For some other brands, you have to take the basket out to shake the food halfway through the cooking process. The Aigerek can do this without removing the basket.

I was not able to find any ratings under 3 stars and that does not happen too often when I review products.

 

 

 

GoWise Air Fryer

 

 



Most of us have heard of the GoWISE brand for many small kitchen appliances and the brand has a good reputation. The 4.5-star rating for their air fryer shows that reputation.
This fryer is available in the colors: Black, Chili Red, and Red.
I have been looking at the different pictures and what I noticed is that the Chili red had a more round shape than the other colors.

 

Features of the Gowise are fryer are:

Variable temperature settings from 180 – 400F
Timer settings from 1 – 60 minutes
Makes a beeping sound when the timer is finished
Included recipe book>/li>

Customer reviews of the GoWise USA air fryer


The opinion about the GoWISE is a little divided. The lower ratings have some complaints about the quality and that the product arrived but did not work.
In the higher ratings, people are very pleased with this hot air fryer and many of them would recommend them to friends and family.

 

 

 

More Hot Air Fryers

 

 


If our top 3 air fryer review does not provide you with the one you need we have compelled a list of what we think are great air fryers.

 




 

 

 

Things To Know About Air Fryers

 

 


Many people have never heard of air fryers and also do not know that they can have some great health benefits.

 

In general, the food prepared in an air fryer is less fat and thus contains fewer calories. This means that you can be on a diet and still eat the deep-fried food we all like once in a while.

Since we do not have to refresh the oil it is also money safer. The oil that is used most of the time is just a little bit and this will save on buying oil. Plus there is a trend going on that shows that the vegetable oil we always used is not healthy.

It is always good to read the manual and start out with the tips and advice on how and how long to fry your food and then slowly add your own recipes and experience to the equation.

I hope this air fryer review helped you and you have found the right kitchen product for your household and the type of food you eat.
Eddie Aiken
Blending technical expertise with hands-on experience, Eddie Aiken offers meticulous product reviews and tips for the modern homeowner. A trusted voice in home and garden essentials, Eddie's insights ensure you make informed choices for your living space. When he's not evaluating the latest products, he's refining his home oasis. Your ideal living space is just a recommendation away with Eddie Aiken.