Our website is supported by our users.

Sometimes we earn a few cents when you click on a link.
Slowly more people are realizing that the beef and other meat they eat are not the best choices.
Grass-fed beef is becoming more in demand and that was a reason for me to do a lot of research and find the best places to buy grass-fed beef.
The number of online stores that sell grass-fed beef and heritage pork is growing. There are however a few of them that have been online for a longer time and I recommend only products I would use myself.
That is why I narrowed it down to the 4 most known online meat stores.
Snake River Farms Review
There is no particular reason that I started with Snake River Farms. it was just the first one on my list.
When I started reading about them to write this snake river farms review I found that they work closely together with the Double-R ranch and that it is one of the most known names in online meat stores.
In a hurry? You can see their store here!
After reading a lot of the comments people wrote about the snake river farms there were a few points that stood out about their services.
Very tender meat
Nice marbled
Quality you find in better restaurants
Very well taste.
I also read that the meat from this vendor cooks faster than non-grass-fed meat. I guess because it contains less fat.
The prices are pretty reasonable taking into consideration how long it takes to let the cows mature and grow naturally.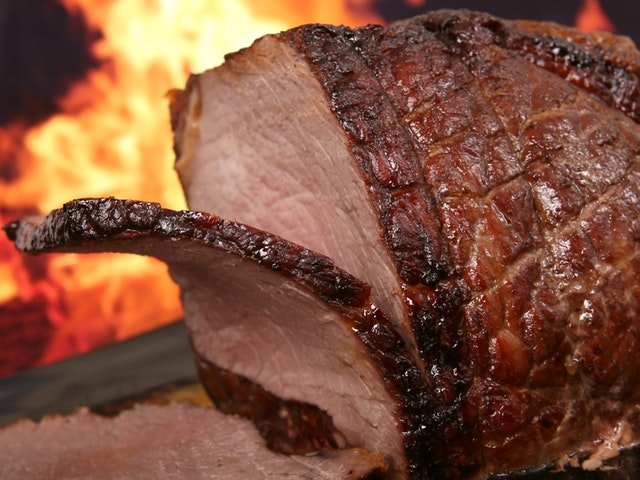 Farmfoods Review
Farmfoods is a company that tries to run a lean system. Meaning that they do not spend a lot of money on advertising and promoting their healthy meat.
This means that their prices might be a little lower than other online meat stores.
They work at this moment with only 6 farms that raise their beef all-natural and that they only feed grass and hay.
You can click read the Farmfoods Reviews Here!
Farmfoods have a strict policy when it comes to animals that need a veterinarian. If a cow needs medicine it will be sold as regular beef and no longer as grass-fed. Sound pretty honest to me!
Farmfoods also sells pork, chicken, and salmon which are all raised naturally.
Shipping is done through UPS and the packaging contains enough dry ice to keep it frozen for a long time.
You can have a look at the farmfoods prices here!
Crow Cow Review
Crowd Cow started with the idea that a few friends would buy a whole grass-fed cow and then after the slaughter would divide the meat.
Soon after that, there was the idea to turn it into a business since so many people were interested in the idea.
Crow Cow has not only the option to choose your own meat but also a subscription box that will be sent to you on a regular basis that you decide on when to receive.
What I like is that you can read all about every farm they work with and what their opinion is about raising cows the natural way.
You can see the Crowd Cow store here!
Crowd Cow only slaughters a cow when all the meat is sold. This does however not mean that you have to wait long. Their high number of customers will take care of that.
As I mentioned they also have 6 options for a monthly subscription box that you choose yourself.
I think that the concept of Crowd Cow will ensure that the meat will be in your freezer as fast as possible.
You can click here to go to their store!
Butcher Box Review
I am not sure but I think Butcher Box is one of the oldest online meat delivery programs.
They sell, just like the other ones, grass fed-beef and also free-range chicken and heritage pork.
Like the name already tell us is that you build your own box of meats you like to order and then decide on one time or a subscription for the period you like.
I only think that the homepage of their website is a little hard to navigate. The reason for me to find a better link for you is below.
You can find the How Butcher Box works page here!
Butcher Box has a few options to choose from that vary from an all-beef to the custom box that you set up yourself.
Butcher box always has promotions when you sign up and they change all the time.
Sometimes it is free bacon for life and then is it free salmon or sirloin. If you sign up at the right moment it can save you some decent money.
As far as I could find butcher box is the only company that offers the option to purchase a gift card. That's a nice present for anyone.
You can find the butcher box prices by clicking here!
My Opinion
A while ago I and my wife made the decision to eat better quality meat and we choose grass-fed and finished beef and heritage pork. Most of the time we ate free-range chicken but it is always nice to have more options.
Grass-finished beef is an upcoming market now more people are choosing healthier meat as part of their diet. This type of meat is how we ate it for centuries and it is the way it supposes to be.
Corn and grain-finished meat are just made for cows or pigs to gain weight as fast as possible to take it to the market.
I have no specific store that I recommend over the other. All the 4 stores I wrote about have a good reputation. Like any other store, it is in most cases a personal preference where to order your naturally raised beef, pork, or chicken.
I know that these reviews are limited and do not tell you all about these stores. Maybe I will write more in-depth reviews on all of them.
Recommendations
It is hard to tell you what to do and where to go for your meat. I suggest clicking on the links in this what you could call online meat store reviews and reading about their program.
You can also opt into their newsletter and receive the items to have on sale in your inbox.
Nothing stops you from shopping on more than one website and seeing what they have to offer each month.
I hope you enjoyed reading this post and got an idea of where to start your journey to eating healthier with beef from a store that sells beef online.
If you are looking for a more exciting option you can have a look at the exotic meats I wrote about in the Fossil Farms review.
Eddie Aiken
Eddie Aiken enjoys doing product research and finding all the pros and cons of a product. He also likes to find the best deals to save his readers money. With his technical education and wide experience in many fields, he is able to provide his readers with top product reviews. More about Eddie Aiken!