Our website is supported by our users.

Sometimes we earn a few cents when you click on a link.
Rating: 3.9 Reviewed by Eddie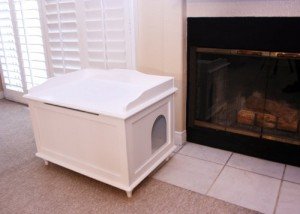 Many people love their cats but do not like the ugly litter box at all. This designer cat litter box enclosure in white is a new litter box furniture that looks just like a little table and can be used like that.
This cat litter box enclosure in white is a great example of how it can improve the way your house looks and give your cat the privacy it needs to do his or her "thing.
Read the whole review of the designer cat litter box in white
Ratings of the white modern designer litter box
(Back to Top)
This White designer enclosed cat litter box has received 136 reviews and here you can find the average rating for this litter box.
Amazon Rating: 3.9
Customer Reviews of the white Designer litter box
"I searched long and hard for a good quality cat box cover before I settled on this one — it had great reviews, and I really liked the look of it and the fact that I can determine which side it opens to. I was already really happy with my plain old litter box out in the open — it was big and set on top of a mat; it was easy to keep clean, and I never really had any problems with that set up whatsoever.
What prompted me to look for a cover is the fact that I have a small niece now, and I wanted to be able to invite family over to a childproof house where toddlers couldn't easily get at a dirty cat box. So I got this enclosure. I loved it in the beginning, but now that I've lived with it for a while, there are quite a few things about it that I would change before I could be really satisfied with the product….
"I bought this product for my laundry room. I needed a litter box enclosure that wouldn't take up much room and would help control the litter from getting all over the floor. It's the perfect size and my cats started going into it right away without any problems. It looks great, was easy to assemble, and is very sturdy. It also controls odor much better than a litter box alone. The only issue is that one of the cats tends to pee outside the litter box, so pee was leaking into the enclosure. I solved this problem by placing the litter box inside a jumbo litter box liner….(read more here: Enclosed white designer litter box Review)"
Our opinion of this modern cat litter box furniture in white
(Back to Top)
The hydraulic hinges are one of the nice features this nice hidden litter box has.
Of course, it is painted with lead- free paint like everything is nowadays. The great thing about this enclosed cat litter box in white is the fact that curious kids and or little dogs can not get inside the box.
This is a very big plus for dog owners because as we know, some dogs like to get in the litter box.
The way this box is made forces the cat to walk around a corner to get in it. This prevents litter to be kicked out of the box when the cat is covering up his droppings.
With its dimensions of 29″ wide, 20″ deep and 15″ high (without the legs) this nice looking piece of furniture can make your house look a lot nicer then with that ugly old litter box.
More Picture of cat litter boxes that looks like furniture
Does this not look Nice?
Tips from real users
(Back to Top)
Tips we found from real users.
If you want it to fit snug against a wall don't install the railing on top. With this is have to be pulled away from the wall to be cleaned/.
I ordered a heavy duty plastic bin for the inside for the litter. I then cut a hole in the side. Love it.
You can read more best modern hidden cat litter box furniture reviews here.
Eddie Aiken
Blending technical expertise with hands-on experience, Eddie Aiken offers meticulous product reviews and tips for the modern homeowner. A trusted voice in home and garden essentials, Eddie's insights ensure you make informed choices for your living space. When he's not evaluating the latest products, he's refining his home oasis. Your ideal living space is just a recommendation away with Eddie Aiken.