Our website is supported by our users.

Sometimes we earn a few cents when you click on a link.
A horse weathervane is very popular and you can find them on many barns and sheds. We are horse lovers since it has been part of our history.
It does not matter if you are looking for an antique horse weathervane or your preference is a race horse weather vane for a cupola.
We have tried to find the best rated and most sold weather vanes with the a horse on it to help you find the one you like.
24 inch weathervane with horse ornament by Montague

(Back to Top)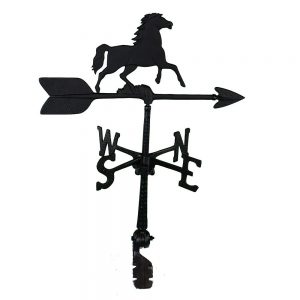 This enamel baked satin black metal 24 inch horse weathervane will fit most pitches with its adjustable clutch.
It is made from hand casted recycled aluminum and made in the USA.
I found an average of 4.3 stars for this wind vane that also comes with the wind direction balls under it.
This size is the best for a cupola or a smaller barn in my opinion.


30 Inch functional black horse weathervane

(Back to Top)

This one is also available in a 24 inch version. Made of aluminum makes this wind vane perfect to turn even with a little wind.
The arrow will point in the direction of the wind. Most parts are made in the USA and dimensions are 105 inches long, 30 inches wide and 7 inches high. This size is great for on a cupola or smaller barn. For a higher roof it is better to look for a larger windvane.
The kit comes with a roof top mount base. Ready for installation.


Horse weathervane with arrow and roof mount

(Back to Top)

The good direction company made this nice looking race horse weathervane. But maybe you just see a running horse in it.
There are two options for this weather vane. the roof mount or the garden pole mount. Both versions are in blue verde copper and the horse figure is about 21 inches long and 10 inches high and this is a great size for a barn, on a pole or mounted on a cupola.


Large horse weathervane for garage or larger structure

(Back to Top)

This larger horse weathervane comes in blue verde copper or in polished copper verion.
It measures 33 x 36 x 18 inches assembled and the horse figure itself is 33 x 18 x 4 inches.
The well known one point contact in the pole will make it spin very easy even with just a little wind.
This windvane is a little bigger and can be place on a home or larger structure.


Western cutting horse weathervane

(Back to Top)

This a new design and great for western lovers. Hand made cutting horse design with cowboy figure and a cow. The Swen company is well known for the nice weathervanes and quality.
The black powder coat finish and the 16 gauge steel makes this to a great weathervane for a stake or pole in you yard.
The ball-bearings in the windcups will assure a perfect and easy working windvane.


---
More horse weathervanes
Adjustable aluminum roof mount from good directions

(Back to Top)

This great roof mount can be use for any weather vane with a little adjusting.
If you have ordered a good direction form good directions, like some we have here on the page, this is the roof mount to get.
it is easy to adjust to the roof pitch and come with all the screws you need.
It will fit most weather vane poles up to 3/4 of an inch diameter.
With a price around 30 dollar I think this is a good buy to keep your weather vane on your rooftop.

Find all our weather vane reviews here