Our website is supported by our users.

Sometimes we earn a few cents when you click on a link.
Indoor and outdoor thermometers are most of the time digital temperature gauging devices that can measure the indoor and outdoor temperature at the same time and display it on an LED screen for easy reading.
What the best indoor or outdoor thermometer is can be very different and depends on your specific situation.
We took a look at 5 of the best and most accurate indoor-outdoor thermometers based on the reviews, feedback, and consumer reports.
Are you in a hurry?
Best indoor outdoor thermometers
Although this is a bold statement I think we can say it is true. We looked at a ton of reviews, homeowners' meanings, ratings, and prices to come to our top 5 indoor outdoor thermometer reviews.
Ambient Weather WS-10 8 channel – 3 sensors
This Ambient indoor outdoor thermometer comes with 3 or 4 sensors depending on the model. The sensors can also be used as a hygrometer.
Features:
Easy to read and use
Audible alarm for your settings
Reads: Temperature and humidity
5 more sensors can be added
Celsius Fahrenheit option
We have found some answers to questions you might also have.
The batteries last a long time since the sensor only updates once every minute. Someone mentioned that his lasted for 3 years and is still good.
Although the unit is rated for 300 feet this is only when there is nothing between the sensor and the indoor unit.
As always I looked a the lower reviews first and found that most of them talk about problems with the connection between sensors and the base unit and that the distance between the two can not be too high. Higher ratings mention the total opposite.
86% of the raters gave it a 3,4 or 5-star rating of which 54% had 5-star ratings.
ThermoPro TP60 indoor outdoor and humidity monitor
One option when you buy this thermometer is to let it set up by an experienced installer so you do not have to deal with the setting.
This ThermoPro is the number one seller on the large online store and over 300 buyers gave it a 4.4 out of 5-star rating.
The features are:
5-year warranty
Wireless
Temperature and humidity
200 feet range
If you are looking for a simple one sensor high quality indoor outdoor thermometer that also registers the humidity this is the one to have a good look at. There is however an option to attach up to 2 more sensors. This makes it a total of 3
The ThermoPro company has a very good reputation in the grill thermometers and is a number one seller.
There is an option that shows if the temperature is gone up or down and a 24-hour review memory to see what the range was.
The base unit and the sensor both require two AAA batteries that last a long time.
altogether this is a very nice indoor outdoor thermometer that we can recommend as a good buy.
Acurite 00611A3 indoor outdoor thermometer
When it comes to this type of thermometer the AcuRite brand shows up everywhere and the reason for this is the excellent quality.
The 00611A3 model is one of their best sellers and we found over 2100 buyers in one online store only.
The features are:
Temperature and humidity
Large display
Fahrenheit or Celcius
433 Mhz
Strong signal
Let's see what we can find to see if all these features are as good as it looks. One thing we found is that it is best to hang the sensor not attached to any glass. The heat will affect the reading.
Depending on the quality of the batteries they will last over a year for the outside unit and indoor unit even longer. Someone advises using lithium batteries for the outside and alkaline for the inside.
One of the things we found that a lot of people like is the large numbers on the display. The second thing is that you can read the day high and low by pressing a few buttons.
Like all other wireless devices, the advertised distance is when there are no obstacles between the sensor and receiver. The maximum is advertised as 165 feet. Many people mentioned that they had no problem with a 30 feet range.
Although there is a higher number of lower ratings and this makes the average go down to 3.9 stars there are still over 77% of the buyers that give it a 3,4 and 5-star rating. To be honest I think some buyers expect a 200-dollar value from an under 35-dollar product.
AcuRite 75007 jumbo display weather station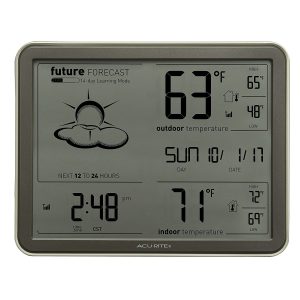 This is an indoor-outdoor weather station with an atomic clock that updates for daylight savings time.
Available to purchase with several options depending on your specific needs.
Options like: Monochrome display and or a Color display.
I have found over 1800 people who took the time to write about this thermometer and what they thought about it. Personally, I think that the 4-star rating is a little low after reading a ton of the reviews.
The features are:
Large display
14 icons
up to 330 feet
Atomic clock
12 to 24-hour forecast
As we read before it is advised to use lithium batteries for the sensor outside and you can use regular alkaline for the base unit indoors.
The manual tells you to hang the outdoor sensor in the shade and at a height of 4 to 8 feet to avoid it reading faulty because of the direct sunlight.
One of the things that came back over and over is that this unit is pretty accurate and that is what most people liked about it. This explains the 83% 3,4 and 5-star ratings. The lower ratings mentioned a faulty unit and or that the display is hard to read if not set up at eye level.
LaCrosse WS-916OU-It indoor outdoor digital thermometer
LaCrosse is another brand that cannot be missed when you review indoor and outdoor thermometers. We had a good look at one of their best-selling La Crosse wireless thermometers and this one is actually the best seller in indoor thermometers in a large online store.
Let's have a look at the features:
Digital and wireless
Up to 330 feet
Can be used with 3 sensors. 1 included
We found again a lot of people who bought this indoor-outdoor station. Over 3800 buyers wrote about their opinion.
3.8 star average seems to be a little low that is why we have to dig a little deeper.
The lower raters mentioned that the outdoor sensor does not last too long in extreme conditions.
With about 72% giving it a 4 or 5-star rating but 23% giving it a low rating I am not sure what to tell you about this La Crosse thermometer.
I suggest that you read through all the reviews and make up your mind. But one thing I like to mention is that you can not expect too much out of a product that cost around 15 dollars.
Buying tips for indoor outdoor thermometers
It is not easy to give advice on what the best indoor outdoor thermometer is and where to buy it. It all depends on what your expectations are and the features you need and of course how much money you like to spend.
if you like to monitor the temperature and humidity in a basement or attic the sensor will not be exposed to much outdoor rain and temperature fluctuations and could be a little cheaper.
If you need one of the most accurate indoor outdoor digital wireless thermometers with humidity or as some people call it a hygrometer you will have to dig a little deeper in your wallet. On this page, we looked at affordable and still reasonable accurate thermometers for indoor and outdoor use.
Eddie Aiken
Eddie Aiken enjoys doing product research and finding all the pros and cons of a product. He also likes to find the best deals to save his readers money. With his technical education and wide experience in many fields, he is able to provide his readers with top product reviews. More about Eddie Aiken!