Our website is supported by our users.

Sometimes we earn a few cents when you click on a link.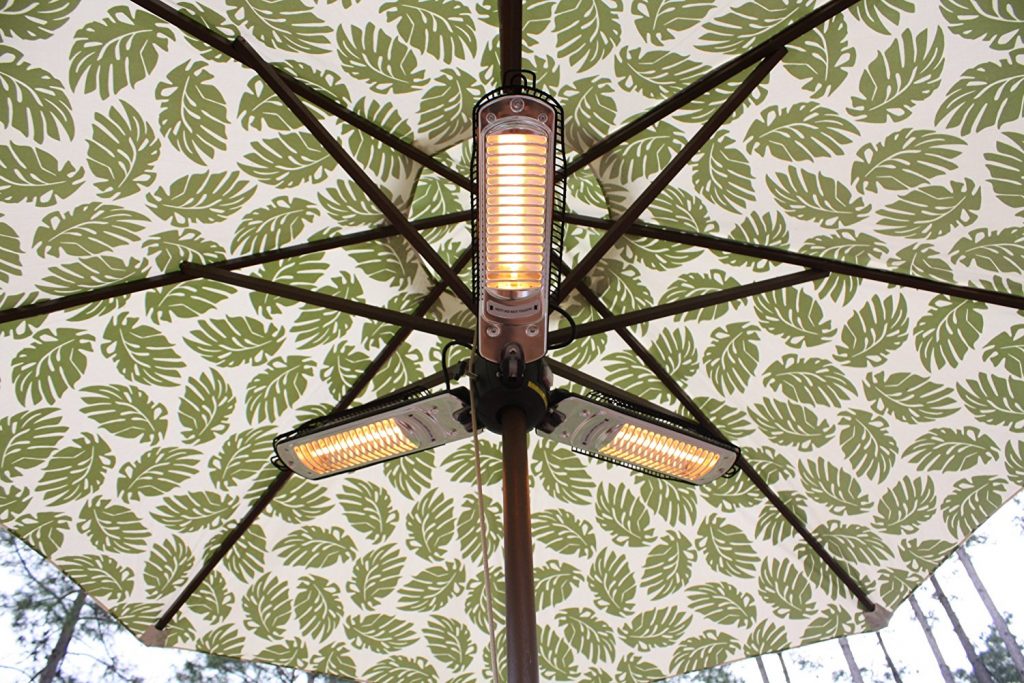 Things that we noticed about the Fire Sense Infrared Parasol heater at first glance.
Fits any standard pole
Can be used indoor
Standard outlet use
Lightweight
In a hurry?==>>Click here to see the price <<==
Let's have a look at the Fire Sense infrared Umbrella Heater
The Fire sense infrared patio heater can be used indoor and outdoor with the pole attachment and it 1500 Watts and can be hooked up to a standard household outlet.
Features
Full heat in seconds
3 x 500 Watts
Weighs under 8lbs
Electric infrared
7 feet power cord
Measurements
The infrared Fire Sense umbrella heater measures 39 x 4 x 3.3 inches.
Large enough that you can sit close to it and small enough to fit under the folded umbrella.

Customer reviews of the Fire Sense Umbrella patio heater
like always we look at the lower ratings to see if there are things that were mentioned more than once. In this case, it was the fact that some people mentioned that it does not give too much heat. Like we mentioned in all our best umbrella patio heater article, you can not expect an outdoor heater to keep you warm on a very cold night.
These things are designed for the cooler nights and that is what we looked at.
Overall this patio heater received an average of 3.9 out of 5 stars. The reason for these lower ratings is like we mentioned that some people rated it lower because they expected more heat from it. This has nothing to do with the quality of the patio heater.
The performance is good on cooler nights is what most buyers mention. With temperatures in the 50's it still works well. With lower temperatures like a Chicago resident mentioned, in the 40's there is not enough output to keep you warm. This makes sense to me with 1500 Watts and that is not what it is made for.
What people liked it is that it keeps the table empty and compared to a tabletop heater it does not block your view to see the person on the other side of the table.
read all customer reviews here
Our opinion about the Fire Sense Umbrella infrared patio heater
I think that the lower rating of 3.9 stars is no true reflection of the quality of this infrared electric patio heater.
Since the lower ratings all were about the heat output on cold nights and these patio heaters are made for a cooler night I think the overall rating should be at least 4.3 stars.
The 7-foot cord and the fact that you can hook it up to a standard outlet is in my opinion a great feature.
I like the option of the 3 settings. 500, 100, and 1500 Watts to adjust the heat to the setting you need.
Electric patio heaters are much quieter than the propane heaters that always make that little hissing sound.
The pole attachment seems to be very easy to use. We read no complaints about installation problems. Some umbrellas give a little problem with folding it down while the Fire Sense patio heat is attached. It was mentioned that someone had to lower it first before the umbrella could be folded.
Overall we can recommend this a good by. If you would like a small propane heater however we think you should have a look at the tabletop patio heaters we reviewed and can be compared to the umbrella patio heaters in output.
Eddie Aiken