Our website is supported by our users.

Sometimes we earn a few cents when you click on a link.
Rating: 4.0 Reviewed by: Eddie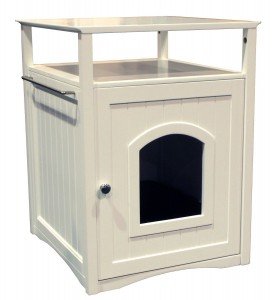 This nice looking piece of modern cat litter box furniture can be used to hide your ugly cat litter box. The way the merry pet cat washroom is built it can then be used as a coffee table or nightstand in your bedroom.

There is room enough inside for a large litter box or for a small pillow if your cat or small dog rather uses it as a place to sleep.
Read the full review of the Merry pet washroom
Customer ratings of the Merry pet cat washroom
Amazon Rating: 4.0
With this merry pet washroom and nightstand, you can not go wrong. It comes in White, Walnut, and Espresso to fit your interior. With over 800 people who wrote something about it, we are able to give you a full review here.
Customer Reviews of the Merry Pet Cat Washroom
"Very nice. I read the reviews and got a high sided litter box at the same time. Haven't had any problems with moisture. I do wish the back had the same look. I have a dog who occasionally sticks his nose in the litter box so I have to turn this toward the wall, you can tell it's the back of the table. Doesn't look horrible but would be better if it was the same. That being said I've always hated that the litter box could seen this way it's nicely hidden in something completely functional…."
"Perfect, perfect, perfect. So much nicer than having a litter box just sitting out, even if it was in a bathroom before. Now it's unobtrusively in a nook in a hallway and blends in. The material is sturdy, a pure white, and doesn't look cheap at all. Doesn't get smelly or stained. Did get the IRIS Open Top Litter Box with Shield and Scoop that has high walls and that makes a big difference. I mini-vac some stray unsoiled litter box about once a month, but it stays fairly clean. Unexpectedly wonderful purchase.
…(read morehere:)"
Our opinion about this pet cat washroom
Like always when we review a product we look at the bad reviews first to see it some remarks keep coming back.
In this case, we found one thing even in the higher ratings that we think is really important to realize before buying this Merry Pet Cat Washroom and that is that it comes highly recommended to paint the inside first.
The second thing we found is that you can only fit a smaller litter box inside and it is not to easy to find one with high walls.
Litter boxes who are covered will not fit in here.
Some cats are not so good at keeping everything inside the litterbox and pee over the edge.
This is why you should paint or line the inside to prevent the warping of the wood.
Assembling seems to be pretty easy although there were some warnings about the holes not lining up and the used hardware is not that great quality.
The metal railing, however, is real metal and not some painted plastic.
Overall our opinion is that the merry pet cat washroom is a nice product and with a few alterations it can work great.
Just paint or line the inside unless your cat is very clean and does not pee over the edge.
Cleaning seems to be pretty easy with the large door, but I also read that someone complained about the door coming off every time they opened it.
Like always we recommend having a good look at it and if you think it does not work or the quality is not what you expect, send it back immediately.
(Back to Top)
Click here to check the price on Amazon Merry Pet Cat Washroom
 
Tips from real users
(Back to Top)
Tips we found from real users
Recommend lining it with plastic contact paper before the first use to ensure it lasts longer.
Immediately after assemblying, we sprayed the inside with white spray paint designed to protect outdoor furniture from the elements.
If your cat does not like to use the box in it convert it into a bed with a small pillow in it
 
You can read all our modern cat litter box furniture reviews here.
More pictures of the merry pet washroom
(Back to Top)

Eddie Aiken
Eddie Aiken enjoys doing product research and finding all the pros and cons of a product. He also likes to find the best deals to save his readers money. With his technical education and wide experience in many fields, he is able to provide his readers with top product reviews. More about Eddie Aiken!