Our website is supported by our users.

Sometimes we earn a few cents when you click on a link.

Are you bored with always having chicken, hamburgers, and hot dogs? Do you want me to find other great options for you? If the answer is Yes!! Then you are looking at the right place. Fossil farms review will help you find more exciting options for your thrilling grill experience.
Why always have the same regular beef, poultry, and pork when you can have more juicy and mouth-watering options waiting for you.
In A Hurry? Click Here To See The Fossil Farms Store!
Fossil Farms Review – Brief Guide For The Explorers
Here is a review for those who want to explore more juicy cuts for their thrilling grill experience.
Introduction of Fossil Farms
Fossil Farms provide online meat delivery services. They also have an actual physical store in New Jersey. If you live in New Jersey, then you can visit their store. Otherwise, you can order your happiness at home because Fossils Farm delivers your favorite cut at your doorstep.
Sometimes a video can explain things better than I can in writing.
Four main meat categories which they offer are:
Game Meats
Exceptional breeds
Game birds
Exotic meats
Like To See More? Click Here For The Fossil Farms Store!
Categories In-Game Meats
Following are the main types of meat you can order from the range of wild meats:
Fossil Farms Venison This Venison is raised in New Zealand, and you can choose different cuts from their wide range of variety.
This venison has a sweet taste to it, which might not be to some people's liking rather than having a gamey taste.
Fossil Farms Bison Raised in the north region of America and eastern Canada, Bison is recommended by many chefs because of its richness in quality.
Bison is red similar to the beef, but its taste is slightly sweeter compared to the beef. Fossil Farms Bison has vitamins and proteins.
Fossil Farms Elk: Elk belongs to the deer family, but it doesn't taste like one. In taste, it is in between venison and beef.
As I like to explore more exciting flavors, for me, It is worth a shot.
ANTELOPE: Antelope looks like a deer, but in reality, they belong to the family of goats. Those who like the mild taste similar to venison should try this cut.
Kinds Of Meats Offered By Fossil Farms
Pheasant
Quail
Ostrich
Lamb
Reptiles
Rabbits
Squab
Venison
Yak
Wild boar
Turkey
Scottish game
Alligator
Wagyu beef
Angus beef
Berkshire pork
Cured meat
Bison
Emu
Duck
Chicken
Game birds
Goose
Kangaroo
Guinea hen
Elk
Foie gras
Iberico pork
Like To See All Of Them? Click Here For The Fossil Farms Store!
Choosing Your Cut Of Meat – The Real Struggle
I can say this with the utmost guarantee that choosing from the wide range of meats offered by Fossil Farms will be one of the most challenging choices you ever had to make.
Because of the vast and exotic meats offered, choosing the one for you will be a complicated matter.
The Top Exotic Meats – People's choice
According to the google research done by me, the following are the top 2 types of meat that people love the most and are shipped the most by Fossil Farmers across the country.
ALLIGATOR Surprised, right? Well, I cannot say this about you, but I was surprised when I found this out.
Alligators meat is one of the most shipped items by Fossil Farms. It tastes like a quail and has a slightly fishy flavor. Although it doesn't have any connection with a quail, weirdly enough, it tastes like one.
OSTRICH While ostriches have wings, they are still unable to fly, but one excellent quality these birds have is that they taste like mighty chicken and turkey.
Who cares man, if they can't fly as long as they taste like a chicken.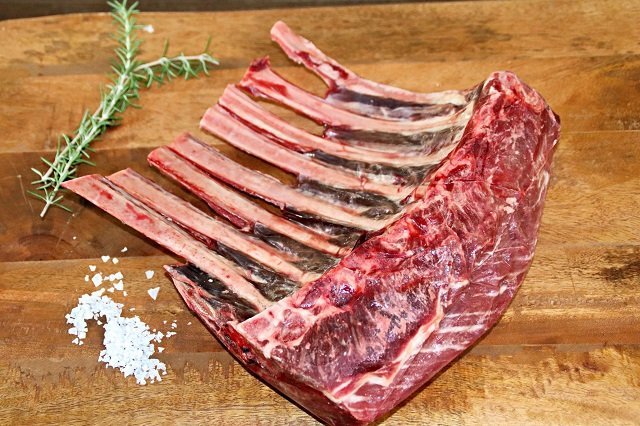 Like To Find All Options? Click Here For The Fossil Farms Store!
Reviews By The Customers
I'll be honest with you. It took me a great effort to find the authentic and honest reviews of the customers.
I searched Google and the Fossil Farms website, and on their website, I found comments and reviews of some delighted and happy customers.
A few people were not content with the services of Fossil Farms, but for the majority of people, the services of farms were outstanding and satisfying.
A large portion of people was satisfied and content with the online delivery service provided by fossils farms.
Those who visited the store in New Jersey mentioned the friendly staff Fossil Farmers have.
Overall the reviews of the customers of Fossil Farmers were good.
Here is a video on how the meat is packed to make sure it will arrive in good condition at your doorsteps.
Like To Order Your Own Box? Click Here For The Fossil Farms Store!
How to Place an Order From Fossil Farms?
After deciding what you want to order, the next step for placing an online order is to sign up for an account first.
Now place your order just through simple clicks from your account.
Orders placed between Monday to Friday are processed on those days and are shipped the following Monday to Thursday. If shipping requires 2 days, then the order will be processed Monday through Wednesday.
How Your Order Will Be Shipped?
For making sure that your order remains fresh, Fossil Farms deliver the order through UPS. You can provide your home address or get it delivered to your workplace.
The box consists of an outer and inner box. Styrofoam helps to keep the frozen meat fresh while the order will be shipped.
To ensure quality, Fossil Farms flash freezes the orders at the time of production. If you want to place a fresh order, then call their customer service at 973-917-3155 for assistance.
Fossil Farms Promo Code
Sorry fellows! I tried to find for myself and for you, too, any promo code or discount code, but I could not do so. Maybe in the future, Fossils Farms will give a promo code. Let's wait and hope for it to happen.
My Personal Opinion About Fossil Farms
I believe that Fossil Farms provides an excellent online delivery service, as I have placed orders several times.
The only complaint I had was the meat got a little thawed out during the shipping process. But, you can freeze those meat cuts again, and they will remain fresh for an extended period.
After reading many comments and reviews by their customers, I could say that Fossil Farms does a lot of work in maintaining their customers happy and content.
Click Here For The Fossil Farms Store!
So if you would like to explore more exotic meat cuts, just like me, or want to surprise your friends and guests with fresh and organic meat cuts,  then you should try to place an order from Fossil Farms.  
If you like to find more options to buy quality meat online you can have a look at the following stores I had a good look at.
Also Read: Farm Foods reviews
Best places to buy grass-fed beef
Eddie Aiken
Blending technical expertise with hands-on experience, Eddie Aiken offers meticulous product reviews and tips for the modern homeowner. A trusted voice in home and garden essentials, Eddie's insights ensure you make informed choices for your living space. When he's not evaluating the latest products, he's refining his home oasis. Your ideal living space is just a recommendation away with Eddie Aiken.